So today we are covering what's in my fridge and what we make with all of these seemingly "random" ingredients. These items actually get us through at least five days and then some. I also included what is in my freezer and some dried goods that don't get refrigerated so you can see everything we get for the week. Then I will break down what we make with everything so you can see how we turn all of this into some tasty #plantbased meals.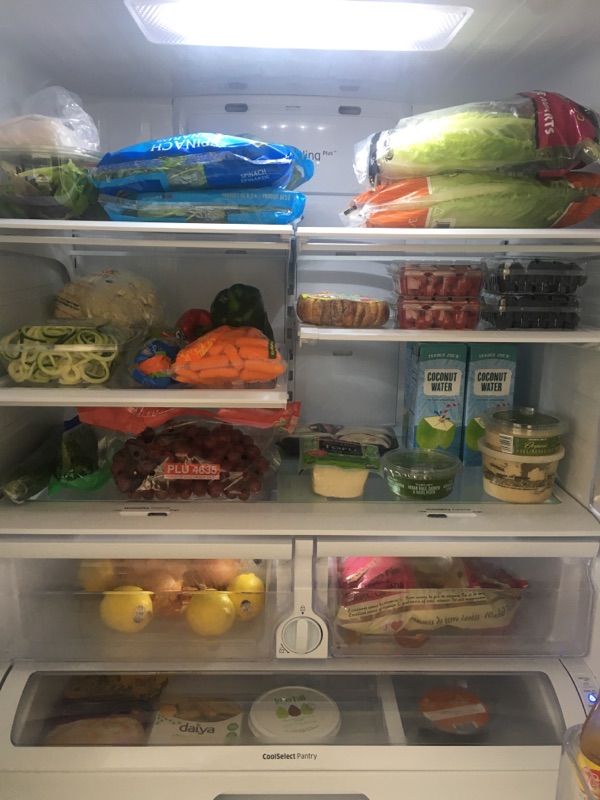 GREENS // Spinach, Lettuce (romaine & mixed greens) + Zoodles
Sautee spinach to pair with hummus mashed potatoes, and/or add it to smoothies, Lettuce for salads, Mix Zoodles with the Vegan pesto
VEGGIES // Carrots, Peppers, Cauliflower, Mushrooms, Potatoes, Onions
Carrots for snacks, Peppers for Quesadillas, Cauliflower for roasting, Mushrooms to add to Pasta or Tacos, Onions for quesadillas. Potatoes to make into "fries", hash browns, baked potatoes and (our fave) – hummus mashed potatoes!
FRUIT // Lemons, dates, Grapes, Raspberries, Blackberries, Figs
Lemons for lemon water, all fruit for snacks or to be added to oatmeal or muesli. Dates for smoothies, snacks, or to make Loni Jane #rawnola.
DRINKS // Coconut water, Soda Water, Almond Milk, Aloe Vera Gel & Champs!
We use almond milk for coffee and to add to oats/muesli. I use the aloe gel on my face in the morning for wrinkles! I like soda water plain, but I also like to add it to wine to make spritzers.
FAUX MEATS & CHEESES // Tofu, Shredded Soy Cheese, Kite Hill Chive Cream Cheese, Daiya Cheddar Slices
Pair the tofu with the broccoli or the cauliflower. You can also "fry" it and make some tacos with it. Shredded cheese is for quesadillas and the cheddar slices are for sandwiches. The Kite Hill cream cheese is UHMAZING and we put it on GG crackers, celery and pretty much anything you can dip in cream cheese!
CONDIMENTS // Hummus, Almond Butter, Vegan Mayo, Dijon Mustard, Tamari, Maple Syrup, Hot Sauce, Vegan Salad Dressing, Organic Ketchup, Salsa Verde
Use the hummus for carrots, mix it into mashed potatoes or put on GG crackers. Almond butter is great for smoothies or to be added to oatmeal. We use the vegan mayo for Notuna tuna and for sandwiches, same with the mustard. Maple Syrup is the sweetener we use in our coffee.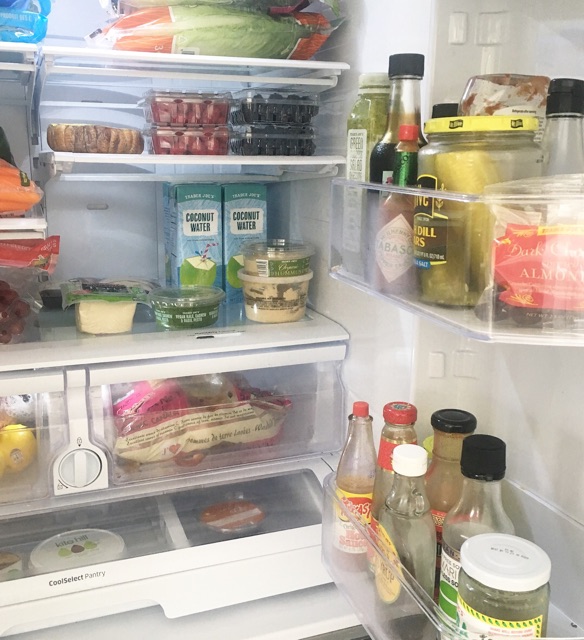 TREATS // Dark Chocolate Almonds & Dates
My husband loves the almonds and they satisfy his sweet tooth. You can also put almond butter in the dates for a sweet treat!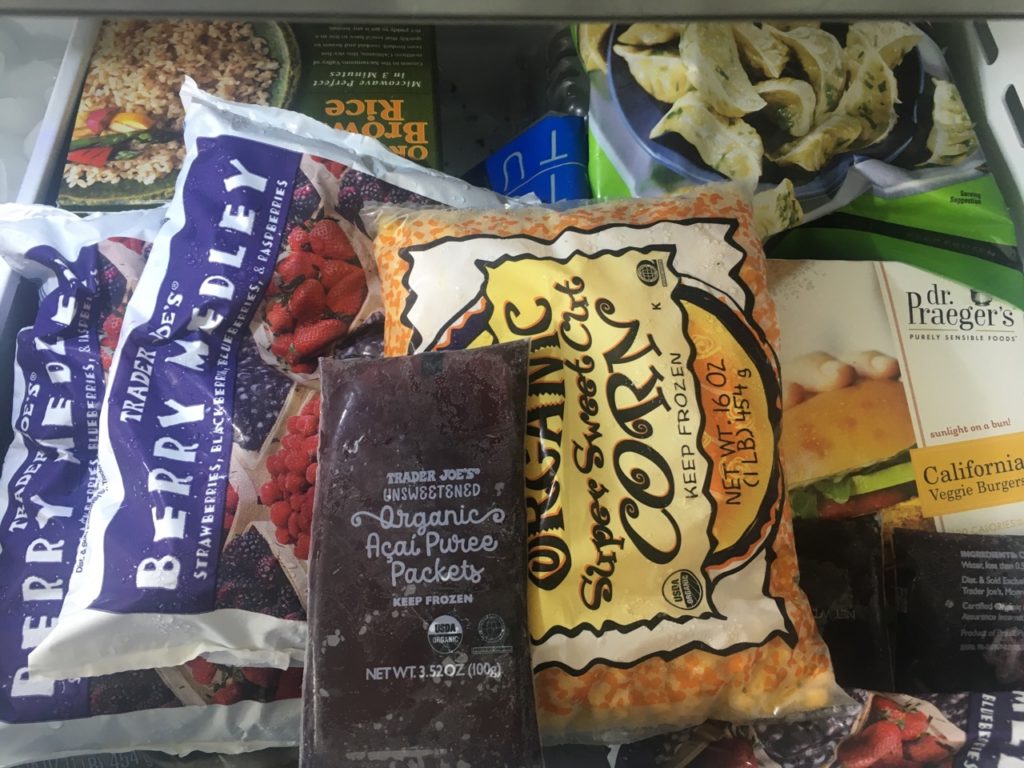 FROZEN // Acai packets, Mixed Berries, Broccoli, Rice, Veggie Gyoza, Dr Praeger's Veggie Burgers
I make a lot of açaí bowls at home with these packets from Trader Joe's and the mixed berries. I also make smoothies with the mixed berries, or add them to my oatmeal. We always have veggie gyoza because it is quick and easy, you can eat them alone, add them to Miso Broth to make a soup or pair them with a veggie. My husband likes the veggie burgers in the morning with avocado or potatoes turned into hashbrowns with the onions. Corn for salads, tacos, etc.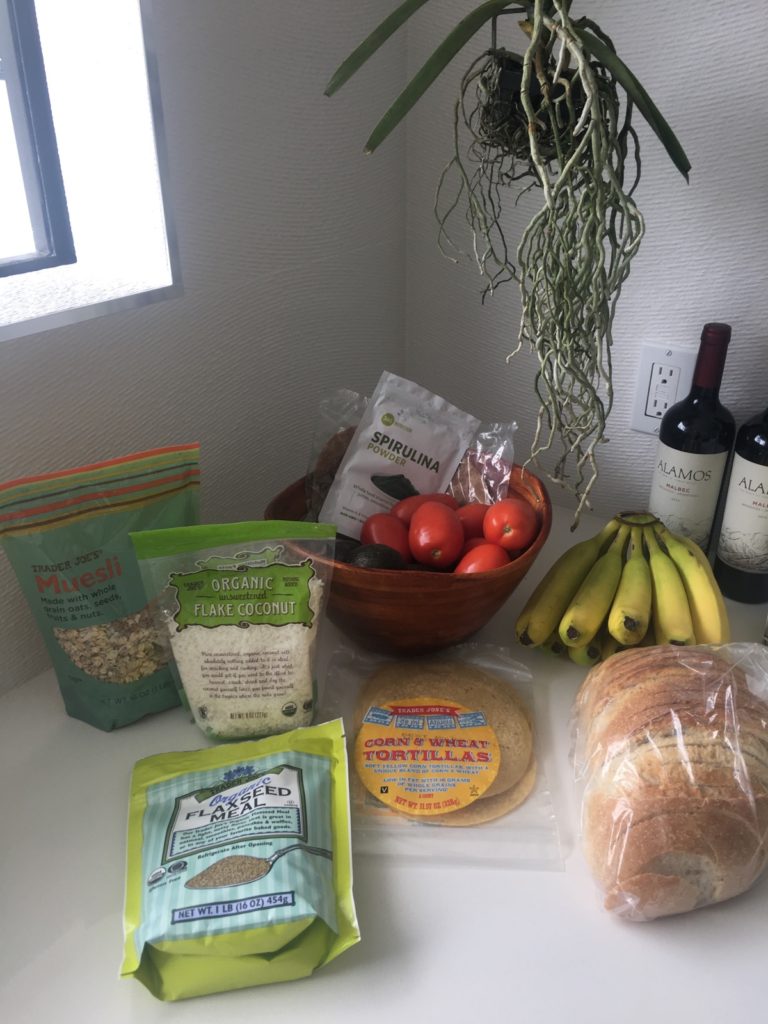 DRIED // Muesli, Unsweetened Coconut Flakes, Flaxseed, Corn Torillas, Sourdough Bread, Bananas, Tomatoes, Avocados, Wraps & Wine
I really like this muesli, I add berries to it with almond milk and bring it to work. I use the coconut to top açaí bowls and the flaxseed for my smoothies. You can use the tortillas for tacos or quesadillas, just put beans, mushrooms or tofu in them and you are good. We love Sourdough bread and this one has like 3 ingredients – we make a lot of Avocado toast in our house with this, or you can do sandwiches. Yes we drink wine sometimes and mix it with club soda! 
I hope this gave you lots of ideas on how to take random items and turn them into many different plantbased meals! Let me know any questions you may have on this. xx, B SaveSave
SaveSave
SaveSave
SaveSave
SaveSave
SaveSave
SaveSave
SaveSave
SaveSave
SaveSave
SaveSave
SaveSave